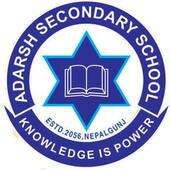 Adarsh Secondary School
Surkhet Road, Nepalgunj , Banke
Dear Students,
In the competative world of today, survival is but just a matter of qulification but of qualification with competence.A better survivor us the one with better competency and qualification. The thrust is specialization and competency.
There are so many institutions in our country. All of them strive to add some value in an individual life. Adarsh Secondary School has been initiated with the vision of enabling the youth of this country to have purposeful vision, mission and goal.
They say, "Life is a challenge, live if", we at Adarsh Secondary School hope to make every individual passing... See More
Ishor Pokhrel
Chief Director
Our goal for every student who enters Adarsh is to provide a secure environment where they will be given opportunities to expand their knowledge and developed their social skills. Students at Adarsh will find a warm and welcoming environment.
Our teaching faculty is made up of a group of dedicated professionals specialized in their respective areas. Program development and implementation are significant parts of the school. We are excited about the ongoing development and implementation of our program of learning. As this program is reinforced each other and embedded within the school's curriculum, students have the potential... See More
Surkhet Road, Nepalgunj , Banke
081- 526194, 527994,526534
school5705@gmail.com
Adarsh Secondary School was established in 2056 B.S by the renowned academic personalities with a mission to produce creative and critical mind who can face the multifarious challenges in practical life and ever increasingly competitive world. It has a mission for the country, parents and the new generation of Nepal to shoulder the process of nation building and social change though innovative and creative education.
It has specialized in its +2 programe in science, management. At the same time, it also runs a school up to SEE level. All the activities of the school are nurtured by strongly motivated team of lectures who are able to transform the young learners into the creators and builders of tomorrow. With a keen focus on quality education, the school is committed to maintain academic excellence and to ensure achievement. It pursues its students +2 level education in opted streams.Over the years Adarsh Secondary School has earned reputation for excellence result, strict discipline and hard work. We are living in such a socio-political environment which is continuously changing. The school is aware of the problems that our parents and students suffer. The school take its responsibility seriously and makers sure that parent's money and students time will not be wasted. The mission of the school is to make its student profession oriented who re academically sound, psychologically strong emotionally balanced with humanitarian and ethical values.
Faculty
+2 Science
Course
10+2 Science
Course Duration
Course Fees
NRs./-
Course Description
Syllabus
Apply Now
Faculty
+2 Management
Course
10+2 Management
Course Duration
2 Years
Course Fees
NRs./-
Course Description
Syllabus
Apply Now
Faculty
+2 Humanities
Course
10+2 Humanities
Course Duration
2 Years
Course Fees
NRs./-
Course Description
Syllabus
Apply Now