Dear Parents, Guardians and Well-wishers,
It gives me immense pleasure to be associated with the most powerful education brand of the country and feel pride in sharing my aspirations with you all.
Our school is committed to provide the best and quality education that meets international standards. We ensure that a high quality learning environment is created that is innovative, challenging and enterprising. Since its inception in 2000 A.D. the school has been striving hard to fulfill its motto "Education Par excellence" and have come a long way with success. Our students secure excellent results in Board Exa... See More
Mrs. Pratibha Thapa
Senior Coordinator
Greeting everyone!
Having high hopes we are ready to continue to fly higher with you finding alternative ways around hurdles. It's time to use artistic skills of critical thinking, persistence, creativity and discipline. We feel the most outstanding works are created when the students are dedicated and hardworking far from hypocrisy and delusion. As a parent, you want the best for your child and with 21 years of legacy of Chaudhary Group Educational Unit producing exceptional leaders in various fields of expertise, we are here with an open heart to embrace every single challenge together and solve it with a subtle touch... See More
Gahana pokhari , Kathmandu
01-4431494/443494/014441078
campionkathmandu@gmail.com
Dear students Warm Greetings! There are few special scholarship seats left! 50% to 100% Hurry up and grab the opportunity.
Campion Kathmandu School is located at the picturesque and serene environment of Gahana Pokhari, Tangal. The school rests amidst residential clusters that makes it a suitable setting for school. It has spacious building which includes all modern facilities like laboratory, library, audio-visual rooms and many more. Since its inception in 2000 A.D. CKSS has been imparting "Education Par Excellence". It has established itself as a centre of learning for young and dynamic students. It aims to provide quality education to students of all age groups from Nursery to Class XII. Some exclusive features of CKSS are:
Centrally located but pollution free environment.
Holistic growth of the child through academic, sports, cultural and artistic activities.
V-Star activities to inculcate virtues, discipline, and moral goodness.
Regular ECA/CCA activities.
Project Works/ Industry Visit/ Field Visit/ Tours Transportation Facilities.
Exclusive Cafeteria.
Affordable Fee Structure
Vision: To Create an empowered global learning community of students & assist them in becoming reative & lifelong learners.
Mission
To create leaders in
To foster & aid in national progress towards a more prosperous, just & human society.
To provide an ideal environment with equal opportunities for maximum scholastic excellence.
To imbibe among the students a profound senseof self-discovery & innovation.
Faculty
+2 Management
Course
10+2 Management
Course Duration
2 Years
Course Fees
NRs.200000/-
Course Description
1. General Management 2. Hotel Management 3. Travel and Mountaineering 4. Computer Science
Syllabus
Apply Now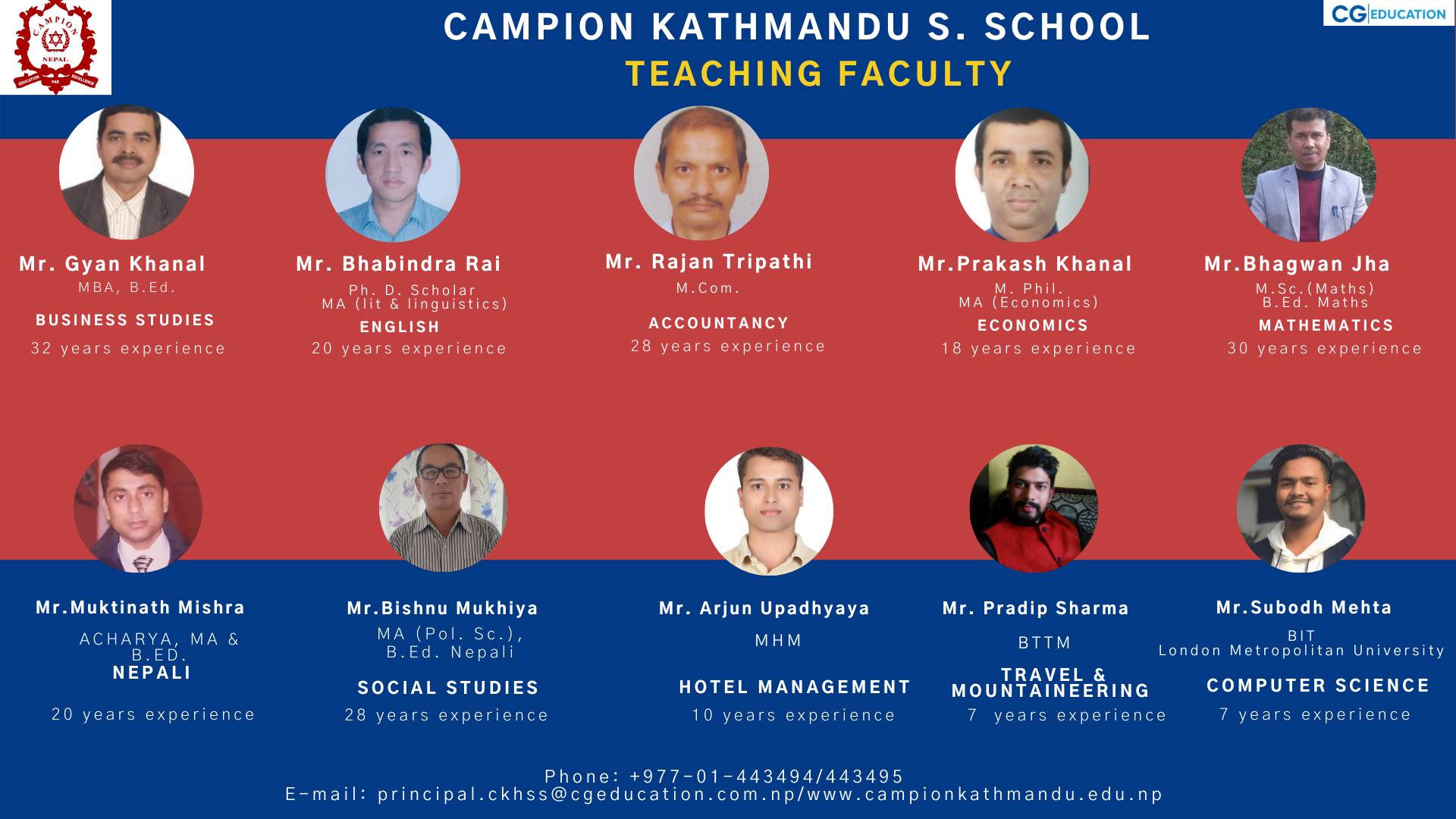 TEACHING FACULTY