Bishnu Prasad Sharma
Chairman
Being a part of KMC (Kathmandu Model Higher Secondary School) as a matter of pride and satisfaction, that was established with its motto. Academic Excellence Through Quality Education? has made study progress during the last 16 ye ars. KMC pe rsists to be a top ranking colle ge all ove r Nepal in the respective sector and its excellent achievementsin various ongoing academic programs especially 2 in Science and Management Stream.
Due to its successful achievements is proud to receive NEB Excellence Award (Letter of Appreciation) among higher secondary schools in the country. KMC receives this award due to its continuous emphasis... See More
Dr. Nagendra Bdr. Aryal
Principal    
I'd like, before all else, to extend my inmost gratitude to our valued parents and guardians for the faith and belief showered upon KMSS!
It is deemed righteous to serve the seekers of knowledge, and it is in the ethos of KMSS to empower every learner who wends his way to our portal. Enthused by our motto-'Academic Excellence through Quality Education' we galvanize our students to spawn lasting passion for learning and enable the, to look beyond their abilities and achieve what they believed not to be brought of. We mould our students to be supple, collaborative, creative, critical thinkers and proactive lifelong learner... See More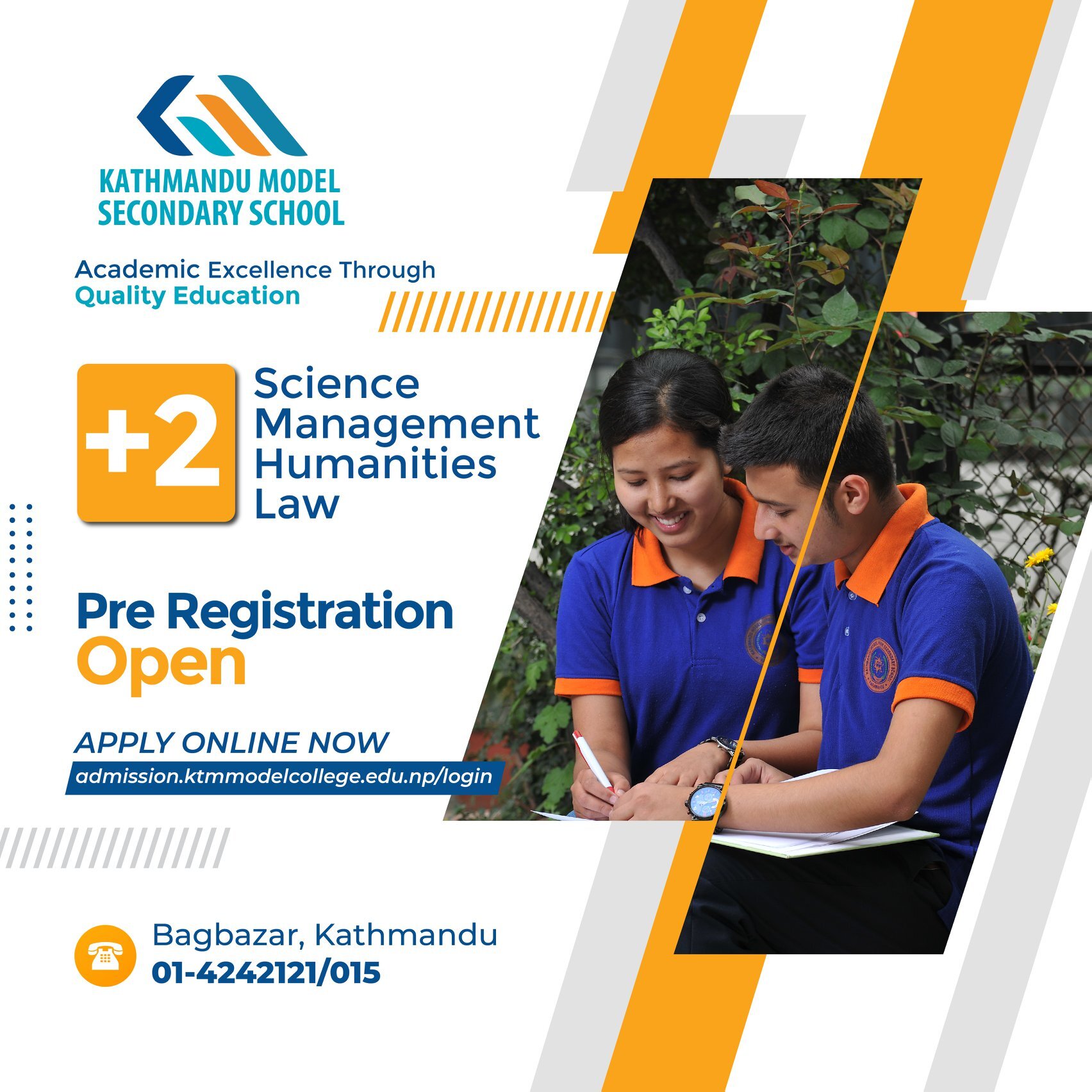 Kathmandu Model College (KMC) established in 2000 right in the heart of the capital city. Bagbazar has carved out for itself an enviable niche at the summit of the best colleges in the country. KMC has earned its place of price through the vision and dedication of a team of academics and professionals who have promoted it, the skill of its panel of professors who possess cutting edge knowledge in their fields, and, above all, the brilliance of its students who have been consistently turning in sterling performance every year. KMC reaffirms its determination to build on the achievement of recent excellent performance in the form of 100% success in Science and Management. The growing number of students every year, despite our selective approach to their admission into the college, reveals our popularity and reputation.
As its motto 'Academic Excellence through Quality Education' it never compromise to provide quality education. It has given high priority to select excellent subject teachers, who not only can teach but also encourage students for betterment.
KMC reiterates its focus upon dedication, devotion and disciplines the sole reason for its steady and impressive growth. It is because of such qualities as well as the emphasis of the college on quality education that students graduating from KMC have been selected and awarded scholarships for higher studies in technical fields like medicine and engineering and social sciences. Mention should also be made of students who have been selected for CA (Chartered Accountancy) and other management disciplines.
We have tried hard to make all programmes attractive and intellectually stimulating by inviting scholars of national and international standing for workshops and seminars. This adds one brighter feather to the already glorious cap of the college.
It is our firm conviction the KMC will march ahead on the path of imparting quality education to the aspiring student. The college remains committed to catering to the needs of the changing society and will respond positively to both opportunities and challenges, for our college securely built upon the school system and a new venture into technical education is, indeed, an institution of higher learning with a difference.
No wonder, KMC is growing like a tree under the successive management team and the leadership. Our remarkable success in running the Higher Secondary Level and Bachelor Level programmes such as 2, BBA, BBS and BA (in Science a, Management and Humanities). Furthermore, KMC Network also enhances the technological know-how of the country in Computer, Electronics and Communication and Civil to the satisfaction of the students, and our desire to make Kathmandu Model College veritably a "model" for the teaching of English have prompted us to start the MA programme in English including all programmes. At present the KMC Educational Network has more than 9000 student and 1050 teaching and non teaching staff working together.