Mr. Gyendra Lama
Chairman
Dear All,
"As you plant today, so, shall you reap tomorrow." This proverb applies to the attainment of education as well. The core significance of education lies in its applicability in the challenging atmosphere that we are likely to face at different times in life. Therefore, the selection of a right education institution is of utmost importance. And I view that Manaslu World College should be your selection for it is the institution that paves a concrete path for your career development molding you in varied disciplines of knowledge.
Established, directed and evaluated by a team of academicians with ample e... See More
Mr. Rajan Shrestha
Principal / M.D
Let us express our sincere welcome to you all into the Manaslu world College family. We feel extremely delighted that you have chosen Manaslu to provide you with all possible means and strategies, that we believe, are prerequisites for your academic progress which is achieved through persistent dedication to the pious objectives of teaching and learning. This notion forms the foundation of all of our activities and approaches at the institution.
Learning is a long journey, where the tripartite endeavors of students, parents and teachers in an inductive environment play a significant role. We anticipate this mutual bond and would... See More
Chuchchepati-7, Chabahil , Kathmandu
01-4472374
manasluworldcollege@gmail.com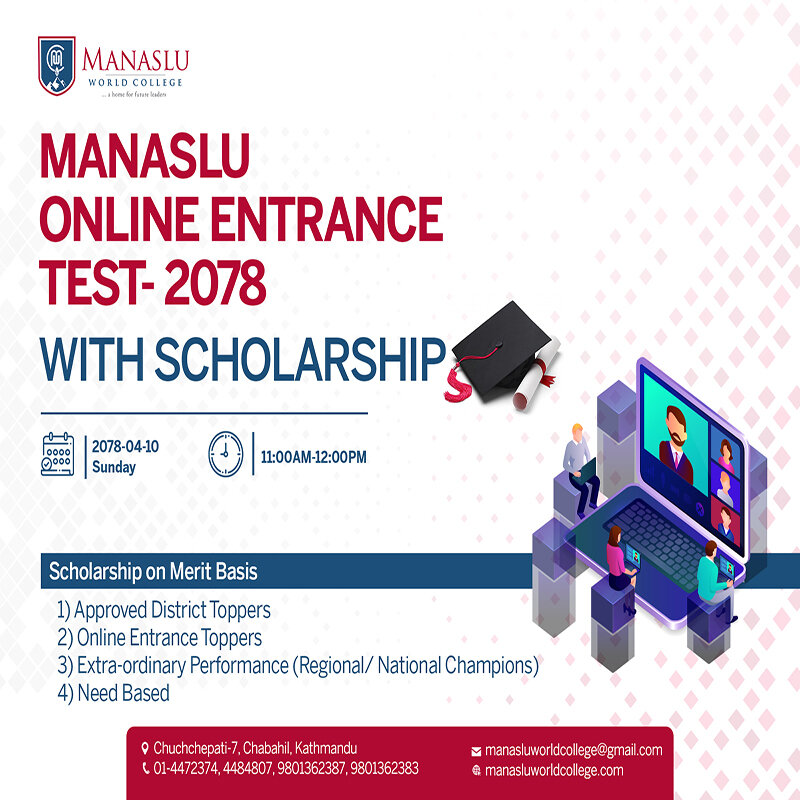 Taking an entrance exam should be an imposition for all students with the purpose of going to college for several reasons. First, the examination can determine students' intelligence, capacity, and the level of students' tendencies toward the college. Are you prepared for the Entrance Exam ?? We are organizing an Online Entrance exam with Scholarships be prepared and best of luck.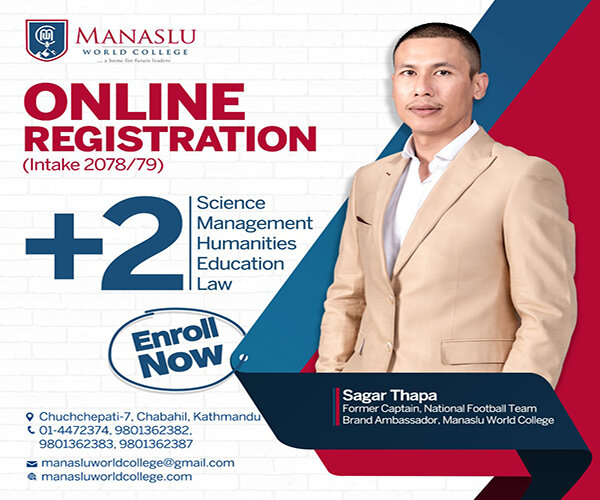 We Proudly Announce Admission Open for Grade XI 2078/2079 Session. 🅰🅳🅼🅸🆂🆂🅸🅾🅽 🅾🅿🅴🅽 🅰🅳🅼🅸🆂🆂🅸🅾🅽 🅾🅿🅴🅽 Let's Join For Quality Education.
Located at Kathmandu Chabahil, Chuchuepati-8, Manaslu World College is an educational institute affiliated to National Education Board, Department of Education. Keeping in view the dynamic global education, we endeavor to cater the world class education essences. We strive to a universal citizen, able to cope up with the multifarious challenges. Furnished with the modern technology, we possess excellent infrastructure, and comprise of a team of experienced, energetic and qualified professionals devoted to the academic development.
With the comprehensive analysis of the requirement in the global market, we have emphasized on an integrated approach of socialization, analytical research, problem solving strategies and implementation of the value based learning. Apart from these, we inculcate in students the sense of self reliance, coordination, cooperation and the understanding of extensive mutual interdependency for the enhancement of cordial co-existence. At present, we have commenced with Humanities, Science, Management and Law, and have a long term vision of providing all the necessary faculties in future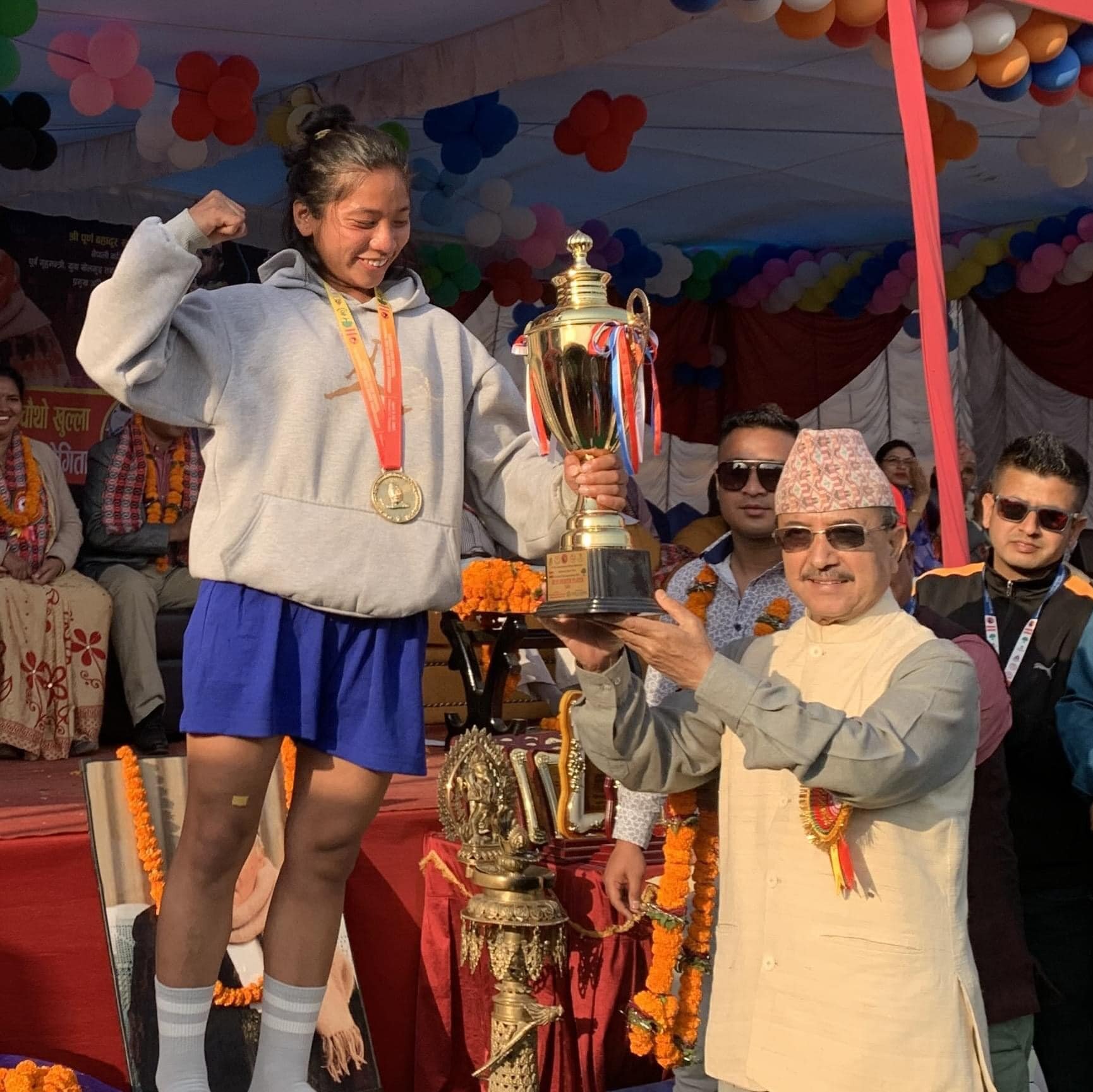 Kick Boxing Champions
Gold Medalist The youngest player in the tournament The best player of the tournament Ganeshman Memorial 4th open Kickboxing Championship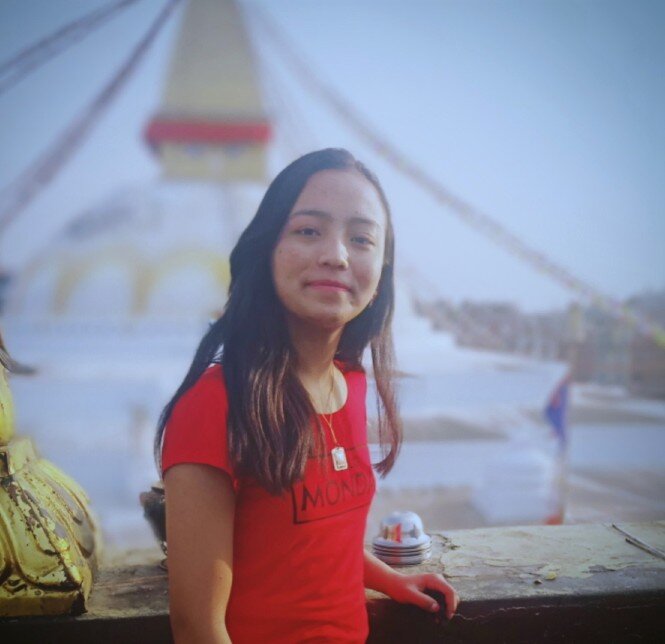 Laxmi Lama
Hello Everyone!
It's me Laxmi Lama from Dolakha. After SEE, I got a chance to visit Manaslu World College and I decided to study here. I am still studying here in class 11 2077. I got a lot of experience at Manaslu World College. Our college provides us extracurricular and co-curricular activities. There are experienced and qualified faculties. Our lecturers are highly qualified and they all work hard in teaching. Our computer lab and science lab are fully equipped. We are free to conduct an innovative experiment. I got a friendly environment at Manaslu World College. It provides the education that the world needs today. Thank you Manaslu World College for all your efforts and for making such a wonderful and memorable experience for us. Our College is one of the best colleges and I am extremely proud to be part of such a college.
Thanks a lot, Manaslu World College.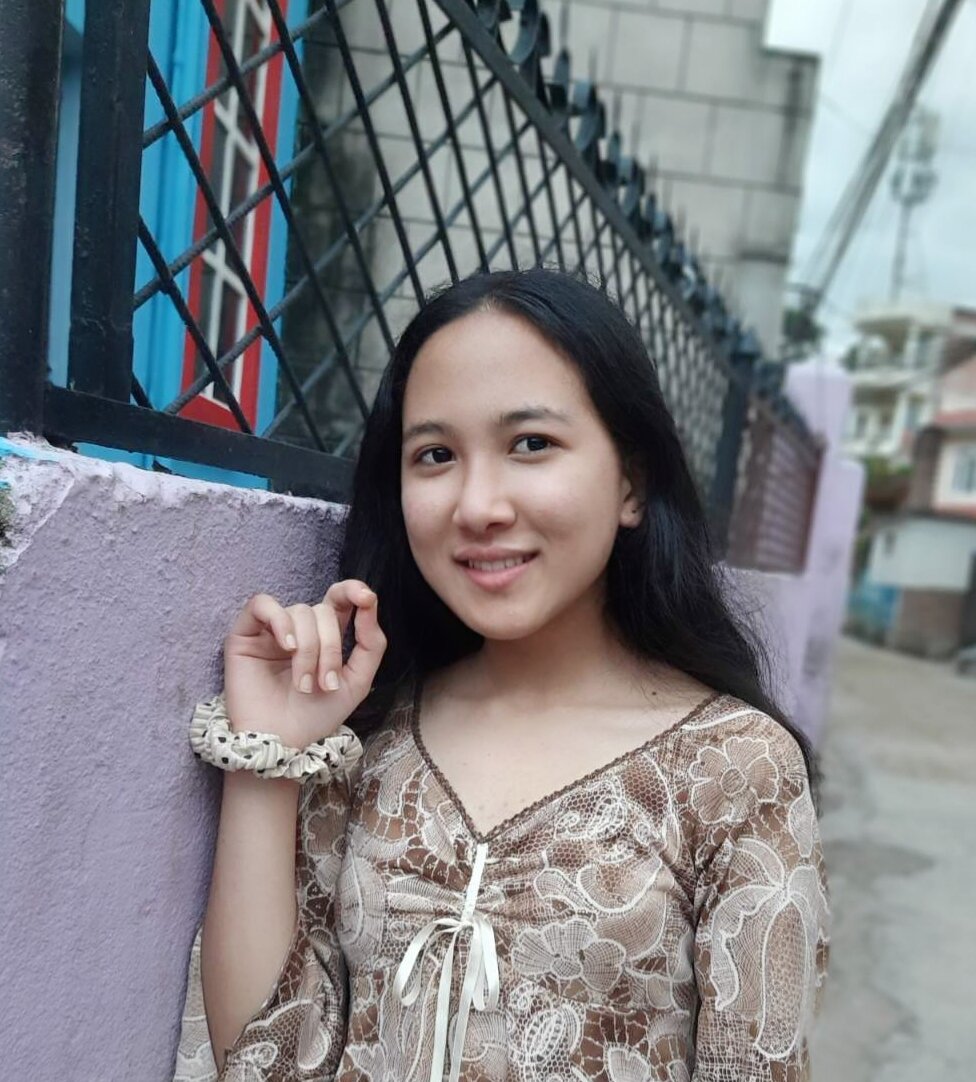 Naina Shrestha
Greetings Everyone!
Since the day I joined Manaslu, I got many opportunities to learn and discover new things. Manaslu has proven to be the right platform for my career and I am very much glad to be part of the Manaslu family. Here, teachers are our parents who inspire, motivate, and guide us to unlock the door of our bright future. Being a biology student, I never felt the subjects difficult because teachers taught us theoretically and practically along with the field visit sharing their experience of life so that we could gain real-life education. Here they support learning with fun and everyone's talent is respected and everyone's passion gets a chance.
They support extracurricular activities. The most amazing fact, Manaslu prepares students for life skills, and studying here, I can see my future twinkling like a star. Also, there's no doubt Manaslu will be one of the best colleges not only in Kathmandu but all over Nepal.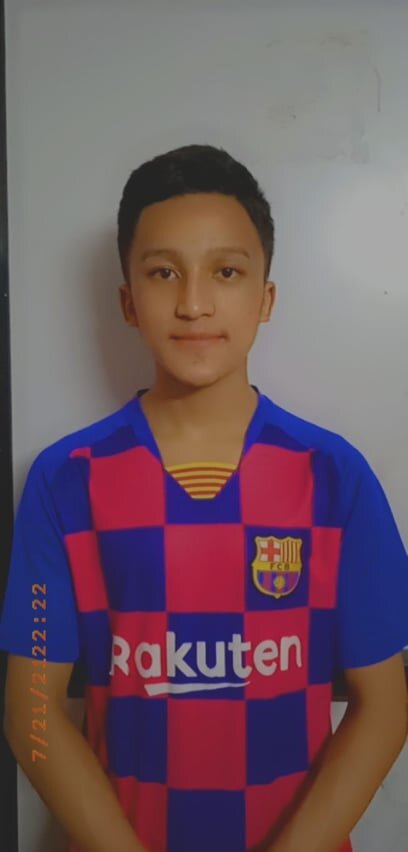 Nim Chhiring Lama
Namaste!
My name is Nim-Chhiring Lama and I am from Dolakha District. Currently studying in +2 science stream.
When I visited Manaslu World College, I got different to excitement to learn. I have visited more than 10 colleges in Kathmandu valley but I have chosen Manaslu World College because of its learning environment, well-facilitated classrooms, and multiple types of scholarships provided by college administration according to their skills and GPA. Manaslu World College is located in central Kathmandu so it is more suitable and easier to study.
Manaslu World College provides qualified experienced professors and a well-equipped science lab, computer lab, and other real-life skill training as well.