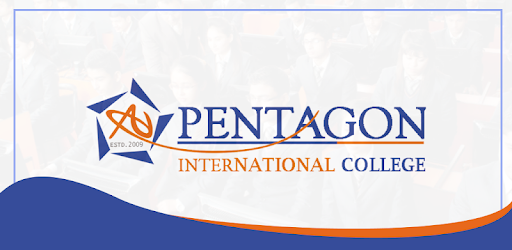 Pentagon International College
Tinkune, Kathmandu , Kathmandu
Tinkune, Kathmandu , Kathmandu
01-4112324, 01-4112325
info@pentagonintl.com
Pentagon International College, set up under the aegis of Pentagon Education Network (PEN), imparts world-class education in different levels: Elementary, +2 level and Bachelor's level. While +2 level program started in 2009 in Science, Management and Humanities streams, Montessori based Elementary school was brought in service from 2014.

Similarly, receiving overwhelming support from the parents and students for its proven outstanding results, the college extended its program offering bachelor level education in Bachelor of Business Studies (B.B.S.) and Bachelor in Social Work (B.S.W.) from 2015. This program is affiliated to Tribhuvan University, the oldest and the most reputed university in Nepal. In a very short span of time, the college has become one of the best local destinations that offer an international standard of education in the homeland.

As of now, thousands of students, who are excelling exceedingly well in Medical, Engineering, BBA, CA courses both in Nepal and abroad, betoken the quality of well-set foundation they were equipped with during their formative years here at Pentagon. Likewise, Pentagonians topping IOE entrance exams, achieving numerous scholarships in MOE- MBBS program and securing Board Top positions in NEB results are the time-tested testimonies of educational excellence of the college.
The college has got a prominent location in close proximity to Ring Road at Tinkune, Kathmandu. Since this place is the meeting point of three adjoining districts of the valley, the premises thus are within easy access for students from different corners of the city.
Faculty
+2 Management
Course
10+2 Management
Course Duration
2 Years
Course Fees
NRs./-
Course Description
Syllabus
Apply Now
Faculty
+2 Science
Course
10+2 Science
Course Duration
2 Years
Course Fees
NRs./-
Course Description
Syllabus
Apply Now